The Zonta Club of Ottawa, Canada invites you to an inspiring talk "Let us Learn Madagascar" showcasing a core component of ZI's mission — the provision of a quality education to girls and young women in Madagascar. Details and registration information below. We look forward to having you join us!
What, How 
It takes place on UN Day, October 24, 2021 at 11:00 a.m. – 12:30 p.m. EST/EDT time via a Zoom talk. Andrea Clemons, Education Specialist UNICEF Madagascar, will provide up-to-date information on the project including the jarring challenges presented by the pandemic and climate change. Nonetheless, they've adapted and carried on with this vital support.
We've attached the event poster for your review.
Set up to Benefit Madagascar 
Simultaneously you will also send a much needed lifeline to buttress ZI's efforts in Madagascar — 100% of the proceeds from the ticket sales will go directly to support this initiative.
So. . . 
you can accomplish TWO wonderful things with ONE easy click on the "Purchase Tickets" button below!
Obtain up-to-date information on a key ZI initiative
Signal your accolades and support to administrators and recipients of "Let us Learn Madagascar" for their courage and resilience in the face of trying circumstances.
Click here to register!  https://bit.ly/ZontaUNDay
It's a perfect way to reinforce Zonta's message of hope and possibility of a better world!
Once again, we look forward to having you join us!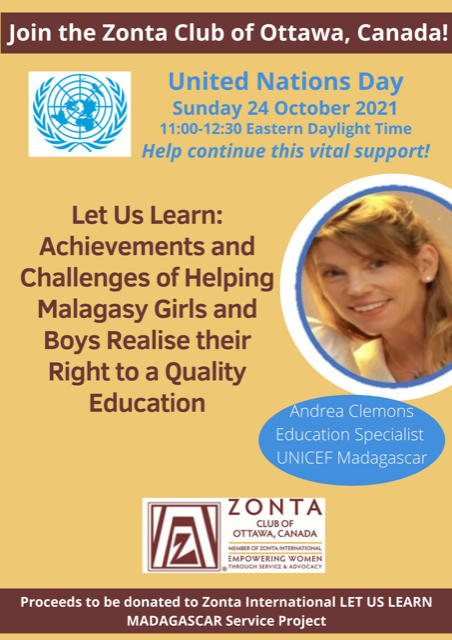 Andrea Clemons has been an Education Specialist at UNICEF Madagascar since 2010. She sees her work in Education as more than a job. She is committed to the Education of children and young people (people of all ages, really!) in all aspects of her life. At UNICEF, Andrea is responsible for coordinating and ensuring the quality of UNICEF's support to the Ministry of Education to improve access, retention and quality teaching and learning in schools. She is also the adolescent and gender focal point for the Education section. Her work primarily supports catch-up classes to out-of-school children, inclusive education, teacher training and supervision, curriculum and materials development for preschool through lower secondary school.
She has coordinated the Let Us Learn Programme (LUL) for the Madagascar Country Office for the past several years, working closely with Child Protection, Social Policy and Communications 4 Development colleagues to ensure a comprehensive package of support to all beneficiaries of the LUL programme. The LUL programme has benefitted over 300,000 Malagasy children and adolescents since 2012.
Before coming to Madagascar, Andrea was a Professor of Education at the University of Southern California and Loyola Marymount University in Los Angeles, where she prepared teachers to teach in underserved communities. She has a Ph.D. in International and intercultural education policy and administration, a Master's degree in literature (from the University of Toronto!) and a Master's degree in Teaching English as a Second Language. She is also a Fulbright scholar, a Returned Peace Corps Volunteer and an honorary board member of Free to Run (a non-profit organization that provides opportunities for girls and women in areas of conflict to participate in outdoor sports and life skills).