Next Events: 
May 25th Annual Awards Evening 
Ottawa City Hall, Jean Pigott Room – 7:00 – 9:00
June 11th – 1000 Islands Family Picnic
Sagastaweka Island, Gananoque Pickup at the Municipal Marina 11:30 am.
Return to the mainland 3:00 p.m.
________________________________________
Overview
Members of Zonta are executives or professionals in a recognized business, institution, or profession who are willing to support the objectives of Zonta.
Founded in 1919, Zonta International is a global organization of executives and professionals working together to advance the status of women worldwide through service and advocacy.
Today there are more than 30,000 members belonging to more than 1,200 Zonta Clubs in 67 countries and geographic areas, The Ottawa Club was founded in 1929.
Annually our Club distributes a number of grants and bursaries to women in the greater Ottawa community.
Our club offers: Opportunities to have an impact through local and international projects; Mentorship; Friendship; Networking opportunities; and Leadership development.
The Club meets once a month for a dinner meeting, usually on the fourth Wednesday of the month.  All members are expected to join committees and participate in meetings, activities and events. Note:  All members are welcome to attend Board Meetings, usually on the second Wednesday of the month.  RSVP with a member of the Board.
_________________________________________________
ZONTA
 MISSION – Zonta International is a leading global organization of professionals empowering women worldwide through service and advocacy 
VISION – Zonta International envisions a world in which women's rights are recognized as human rights and every woman is able to achieve her potential In such a world, women have access to all resources and are represented in decision making positions on an equal basis with men. In such a world, no woman lives in fear of violence.
THEME – empowering women through service and advocacy
2016 Fashion Show and Cocktails Fundraiser
What a great event… thanks to all for attending and especially to Carol Anne Meehan for being our MC. 
We will report more later this week…  Suffice to say it was a wonderful evening.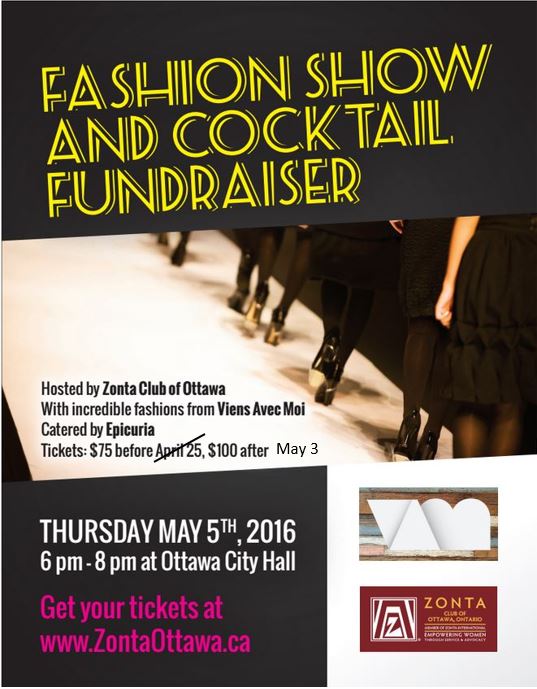 A partial tax receipt will be provided on all tickets, the amount to be determined.
Fashions by viens avec moi, ( 1338 Wellington St W, Ottawa, ON)
MC:  Carol Anne Meehan.  And, we just learned that Zephyr Harp Duo with Joanne Griffin and Heather Flinn will be performing.  Also, Alyssa Beltempo, stylist, will be on hand to arrange our Silent Auction table and take photographs.  
_________________________
March 5, 2016 – The MOM Conference
Most of a mom's stress comes from not knowing. Not knowing who to ask, where to go, what to do. And yet, most of the things that cause mom's stress in life are totally preventable and fixable.
The goal of "The Mom Conference" is to help Moms be more informed and less stressed.
This year Zonta Club of Ottawa attended the Conference, it was a great day for all attendees.
November 25th – Holiday  Meeting



It's the 21st century and changes are happening, a group of young teens – all men – are working to fight violence against women.
On Wednesday evening, November 25th, at the Zonta Club of Ottawa's Holiday Meeting, the group ManUp! received a grant of $1,000 to help promote their initiate.
Zonta club member Helen Ofosu, learned about the high school students and suggested the partnership this fall.  "I was impressed with the student's commitment," she says, "and realize that this project – boys speaking to boys and men speaking to men – could actually make change.  I contacted the teacher involved, Travis Wing, and realized they were on the move and could use our support."
"What started as a ripple of change," explained Travis Wing, "is starting to turn into a major wave. We are attracting the attention of kids and schools across the city.  This week we are looking at talking with about 3,900 students!  Many of these kids have already contacted us and are dying to start making a difference; the kids know that we need to see change; and the kids are dying to be agents of that change… it is so amazing and so encouraging to see the power of children and to see them open up their hearts to our cause."
_____________________
November is #Shine the Light on Violence Against Women Month – be sure to follow along and participate in various activities!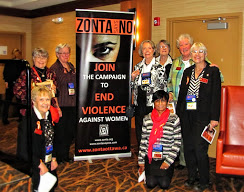 Be sure to see the UN and Zonta page under Zonta International.  Important information is updated often.