Overview
Members of Zonta are executives or professionals in a recognized business, institution, or profession who are willing to support the objectives of Zonta.
Founded in 1919, Zonta International is a global organization of executives and professionals working together to advance the status of women worldwide through service and advocacy.
Today there are more than 30,000 members belonging to more than 1,200 Zonta Clubs in 67 countries and geographic areas, The Ottawa Club was founded in 1929.
Annually our Club distributes a number of grants and bursaries to women in the greater Ottawa community.
Our club offers:
Community service and advocacy
Opportunities to have an impact through international projects
The Club meets once a month for a dinner meeting, usually on the fourth Wednesday of the month.  All members are expected to join committees and participate in meetings, activities and events. Note:  All members are welcome to attend Board Meetings, usually on the second Wednesday of the month.  RSVP with a member of the Board.
_________________________________________________
ZONTA
 MISSION – Zonta International is a leading global organization of professionals empowering women worldwide through service and advocacy 
VISION – Zonta International envisions a world in which women's rights are recognized as human rights and every woman is able to achieve her potential In such a world, women have access to all resources and are represented in decision making positions on an equal basis with men. In such a world, no woman lives in fear of violence.
THEME – empowering women through service and advocacy
November 25th – Holiday  Meeting



It's the 21st century and changes are happening, a group of young teens – all men – are working to fight violence against women.
On Wednesday evening, November 25th, at the Zonta Club of Ottawa's Holiday Meeting, the group ManUp! received a grant of $1,000 to help promote their initiate.
Zonta club member Helen Ofosu, learned about the high school students and suggested the partnership this fall.  "I was impressed with the student's commitment," she says, "and realize that this project – boys speaking to boys and men speaking to men – could actually make change.  I contacted the teacher involved, Travis Wing, and realized they were on the move and could use our support."
"What started as a ripple of change," explained Travis Wing, "is starting to turn into a major wave. We are attracting the attention of kids and schools across the city.  This week we are looking at talking with about 3,900 students!  Many of these kids have already contacted us and are dying to start making a difference; the kids know that we need to see change; and the kids are dying to be agents of that change… it is so amazing and so encouraging to see the power of children and to see them open up their hearts to our cause."
_____________________
November is #Shine the Light on Violence Against Women Month – be sure to follow along and participate in various activities!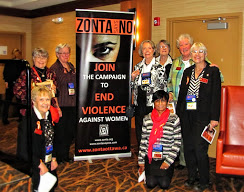 Be sure to see the UN and Zonta page under Zonta International.  Important information is updated often.