Members of Zonta are executives or professionals in a recognized business, institution, or profession who are willing to support the objectives of Zonta.
Founded in 1919, Zonta International is a global organization of executives and professionals working together to advance the status of women worldwide through service and advocacy.
Today there are more than 30,000 members belonging to more than 1,200 Zonta Clubs in 63 countries and geographic areas,The Ottawa Club was founded in 1929.
Among the first Canadian Zontians:  Agnes Macphail, first woman to be elected to Parliament; Senator Cairine Wilson, first woman senator; and Senator Muriel McQueen Fergusson, first female Speaker of the Senate.
The Club meets once a month for a dinner meeting, usually on the fourth Wednesday of the month.  All members are expected to join committees and participate in meetings, activities and events.
_________________________________________________
In the Media… Topic:  Violence Against Women
'FHRITP' debacle becomes a teachable moment by ZOSIA BIELSKI, "The Globe and Mail" Published
Upcoming: (Check the latest edition of "Zontaclar" for details)
Summer picnic north of Ottawa at Val Hume's cottage!  Saturday, August 8
2014/2015 Year in Review!
May, 2014 – Awards evening in Ottawa City Hall and our 85th year celebration with a birthday cake and the Hon Dr. Kelly Leith, Minister of Labour and Status of Women as guest speaker.
June, 2014  – Zonta sponsored Elder Abuse Awareness Day at Ottawa City Hall.  The Mayor of Ottawa attended and CBCs Rita Celli, was our MC.
July, 2014 – Successful fund raising with the Odyssey Theatre
September, 2014 – Planning  general meeting.
October, 2014 – October 22, scheduled Social Media Presentation was cancelled due to tragic events on Parliament Hill.  Zonta members met for dinner and a general meeting.
November, 2014 –  Social Media Presentation by Shawna Doyle, Director of Creative Communications, Rhapsody Communications. 
November, 2014 – A most successful Holiday reception for members and guests to celebrate the holiday and collecting funds for the Club's international and local projects.
January, 2015 – Member's Saturday morning breakfast, with special guest, Dr. Joana Rocha, Assistant Professor with the Department of Mechanical and Aerospace Engineering, Carleton University
February, 2015- All committees met to select winners of Zonta Awards
March, 2015 – Fashion Show to celebrate International Women's Day
March meeting – Information evening, special guest Sister Pauline Gagne, from PACT as well as the video showing of the CBC Film "Silence of the Labs."
April, 2015 – Annual General Meeting
May, 2015 – Annual Awards Reception
Our Next Event!  JULY 22, 2015

2015/2016 Awards/Scholarships – FUNDRAISER!

The Things We Do For Love: An evening of Spanish theatre / Directed by Laurie Steven
Where:  Theatre Under the Stars in Strathcona Park, Ottawa
Time: Gate opens at 7:30 pm, show starts at 8 pm
Tickets: $22.00 *all tickets must be purchased & paid in advance*
Date: Wednesday July 22, 2015
RSVP:  ASAP! Latest JULY 17, 2015
CONTACT:  zontaottawa@rogers.ca
Rain Policy:  If the show is cancelled, the rain date is July 26@ 8pm) We do not offer refunds.  *Please don't be disappointed, get your tickets early*
Join Odyssey for their 30th anniversary! This year Odyssey will be performing a trio of Spanish one-act plays, which explore the extremes we go to for love, featuring:
Saving Melisendra! based on a chapter of Miguel de Cervantes' Don Quixote. Master Pedro's chivalric puppet play takes a surprising turn when an unexpected audience member arrives!
The Love of Don Perlimpin and Belisa in the Garden by Federico García Lorca. What happens when a middle-aged man marries and then falls in love with a seething, sensual young gypsy girl? Comedy and tragedy rolled into one as Perlimplin goes to great lengths to win her heart!
Whether You Like it Or Not by Tirso de Molina with translation by Dr. José Ruano de la Haza. An outrageous comedy in which the whimsical heroine concocts outrageous schemes to trap the man who has stolen her heart – whether he likes it or not!
Zonta Club of Ottawa Members want you to know that by purchasing a ticket and attending you are helping to finance our 2015/2016 Awards/Bursary/Scholarships:
PLEASE HAVE FUN & ENJOY THE SHOW, THANK YOU.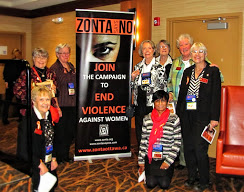 Be sure to see the UN and Zonta page under Zonta International.  Important information is updated often.