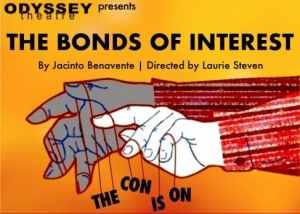 Zonta Club of Ottawa Fund Raiser
2019/2020 Awards & Bursaries
Odyssey Theatre Presents
Theatre Under The Stars,  Strathcona Park
Wed., July 24, 2019 – A rain date will apply, if necessary
Gate opens at 7:30, show starts 8:00 pm
$22.00 Per Ticket
All tickets must be purchased in advance
The bonds of love are nothing to The Bonds of Interest Don't miss Odyssey Theatre's 34th season of Theatre Under the Stars. It is excited to present the world premiere of a new translation of The Bonds of Interest by Spanish playwright and Nobel Prize laureate, Jacinto Benavente.
The con is on when two penniless con artists arrive in a town of pretenders and concoct a devious scheme to get rich. But the town is in too deep and too tied up in their vested bonds of interest to blow the whistle.
Directed by Artistic Director Laurie Steven, this production will weave the company's signature masks and Commedia dell'Arte with the play's delightful wit and savage farce to create a flamboyantly theatrical production that will speak to today's audiences.
A talented team of designers and a cast of twelve will create a stunning production that promises to be the hit of the summer. Rarely seen in North America, Benavente's modern Commedia dell'Arte masterpiece is a wickedly clever satire about self-interest, greed and corruption in the modern consumer-driven world.
This marvellous new translation is being developed by Odyssey Theatre in collaboration with Catherine Boyle of Out of the Wings. Based in London UK, and associated with King's College London University, they are dedicated to bringing the trove of untranslated Spanish theatre to English-speaking audiences.
More information about Odyssey Theatre is available at www.odysseytheatre.ca.
Zonta Club of Ottawa, Ontario
Celebrating our 90th Anniversary 1929 – 2019
---
Recently, Senator Tony Dean rose in the Canadian Senate to congratulate Zonta International on its 100th anniversary. Toronto Zonta member Dr. Marie Boutillier, wife of Senator Dean and Zonta Club of Ottawa President, Cindy O'Neil were introduced to the members of the Senate. They were also presented with a commendation certificate from Canadian Prime Minister Trudeau, which will be presented to Zonta International
---
---
Senator Dean's Statement on the 100th Anniversary of Zonta Clubs
Senator Tony Dean
Published on Jun 6, 2019
On June 6th, Senator Dean gave a statement on the 100th anniversary of Zonta International, a global volunteer organization, empowering women worldwide through service and advocacy for the recognition of women's rights as human rights and a world where every woman is able to achieve her full potential without fear of gender-based violence.
YouTube:  https://www.youtube.com/watch?v=NXmYkIBM0OQ&feature=youtu.be
Website: http://tonydean.sencanada.ca/en/senate-business/statements/statement-on-the-100th-anniversary-of-zonta-clubs/
---
Mission & Vision
Mission
Zonta International is a leading global organization of professionals empowering women worldwide through service and advocacy.
Vision
Zonta International envisions a world in which women's rights are recognized as human rights and every woman is able to achieve her full potential.
In such a world, women have access to all resources and are represented in decision making positions on an equal basis with men.
In such a world, no woman lives in fear of violence.
---
---
Overview
Members of Zonta are executives or professionals in a recognized business, institution, or profession who are willing to support the objectives of Zonta.
The Zonta Club of Ottawa, Ontario, is a member of Zonta International, a leading global service and advocacy organization with more than 29,000 members worldwide. Founded in 1919 and named for a Native American Sioux word that means "honest and trustworthy," Zonta is made up of executives and professionals who work together to empower and assist women locally and internationally. The Zonta Club of Ottawa was chartered in 1929.
While Zonta is active in 63 countries, our clubs are not divided by country. Rather, our members work in geographic regions that transcend national and provincial borders. For example, Zonta Ottawa ON is part of a District that includes clubs in Montreal and many parts of New York State. This global structure enhances the truly international nature and scope of our mission and mandate.
(Note:  There are two Zonta Clubs of Ottawa – ours in Ontario, Canada, and the Zonta Club of Ottawa, Illinois is in the United States)
---