Zonta Club of Ottawa &

International

Calendar
2019-2020  
JUNE 2019
June 5th ZCO Board Meeting
June 5th World Environment Day
June 7th, 8th, and 9th The 10th North American Inter-District Meeting in Irving, Texas, USA, 6:00 PM – 12:00 PM Central Standard Time, Embassy Suites by Hilton Dallas, DFW Airport South, 4650 W. Airport Freeway Irving, TX USA 75062 (Lynda Pearson & Val Hume attending)
June 17th World Day to Combat Desertification and Drought
June 20th World Refugee Day
June 26th *ZCO Members Meeting – Strategic Planning*
JULY 2019
July 10th ZCO Board Meeting
July 11th World Population Day
July 24th Odyssey Theatre Fundraiser
July 30th International Day of Friendship
July 30th World Day Against Trafficking in Persons
AUGUST 2019
August 9th International Day of the World's Indigenous People
August 12th International Youth Day
August 14th ZCO Board Meeting
August 17th Susie & Marceli's Island Fundraiser
August 19th World Humanitarian Day
SEPTEMBER 2019
September 8th International Literacy Day
September 11th ZCO Board Meeting
September 21st International Day of Peace
September 25th ZCO MEMBERS Meeting
October 2019
October 9th ZCO Board Meeting
October 11th International Day of the Girl Child
October 15th International Day of Rural Women
October 16th World Food Day
October 17th International Day for the Eradication of Poverty
October 18th, 19th, and 20th District 02 Conference, in Lake Placid, NY, (just a month before Zonta's official birthday)
October 23rd ZCO MEMBERS Meeting
October 24th United Nations Day
November 2019
November 8th  ZI 100 Anniversary
November 13th ZCO Board Meeting
November 25th International Day for the Elimination of Violence Against Women
November 25th- December 10th Zonta says NO to Violence Against Women and Sixteen days of Activism Against Gender Violence
November 20th Universal Children's Day
November 27th *ZCO MEMBERS Meeting Christmas Party*
DECEMBER 2019
December 1st World Aids Day
November 25th- December 10th Zonta says NO to Violence Against Women and Sixteen days of Activism Against Gender Violence
December 6th Nat'l Day of Remembrance & Action on Violence Against Women
December 10th Human Rights Day
December 11th ZCO Board Meeting
December 25th Christmas Day
December 31st New Year's Eve
JANUARY 2020
January 1st New Year's Day
January 8th ZCO Board Meeting
January 11th Amelia Earhart Day
January 11th, 18th or 25th (TBC)  ZCO Annual Breakfast
FEBRUARY 2020
February 6th International Day for Zero Tolerance to Female Genital Mutilation
February 11th International Day of Women and Girls in Science
February 20th World Day of Social Justice
MARCH 2020
APRIL 2020
MAY 2020
JUNE 2020
JULY 2020
Join us for the 65th Zonta International Convention 4 July – 8 July | Chicago, USA  2020 Zonta International Convention will be in Chicago
July 4th–8th, 2020  Chicago Marriott Downtown Magnificent Mile, Chicago, IL, USA
---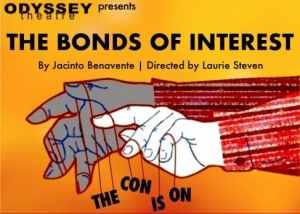 Zonta Club of Ottawa, Ontario Fund Raiser
2019/2020 Awards & Bursaries
Odyssey Theatre Presents
Theatre Under The Stars,  Strathcona Park
Wed., July 24, 2019 – A rain date will apply, if necessary
Gate opens at 7:30, show starts 8:00 pm
$22.00 Per Ticket
All tickets must be purchased in advance
The bonds of love are nothing to The Bonds of Interest Don't miss Odyssey Theatre's 34th season of Theatre Under the Stars. It is excited to present the world premiere of a new translation of The Bonds of Interest by Spanish playwright and Nobel Prize laureate, Jacinto Benavente. The con is on when two penniless con artists arrive in a town of pretenders and concoct a devious scheme to get rich. But the town is in too deep and too tied up in their vested bonds of interest to blow the whistle. Directed by Artistic Director Laurie Steven, this production will weave the company's signature masks and Commedia dell'Arte with the play's delightful wit and savage farce to create a flamboyantly theatrical production that will speak to today's audiences. A talented team of designers and a cast of twelve will create a stunning production that promises to be the hit of the summer. Rarely seen in North America, Benavente's modern Commedia dell'Arte masterpiece is a wickedly clever satire about self-interest, greed and corruption in the modern consumer-driven world. This marvellous new translation is being developed by Odyssey Theatre in collaboration with Catherine Boyle of Out of the Wings. Based in London UK, and associated with King's College London University, they are dedicated to bringing the trove of untranslated Spanish theatre to English-speaking audiences.
More information about Odyssey Theatre is available at www.odysseytheatre.ca.
Zonta Club of Ottawa, Ontario
Celebrating our 90th Anniversary 1929 – 2019
---
Overview
_________________________________________________________
Members of Zonta are executives or professionals in a recognized business, institution, or profession who are willing to support the objectives of Zonta.
The Zonta Club of Ottawa, Ontario, is a member of Zonta International, a leading global service and advocacy organization with more than 29,000 members worldwide. Founded in 1919 and named for a Native American Sioux word that means "honest and trustworthy," Zonta is made up of executives and professionals who work together to empower and assist women locally and internationally. The Zonta Club of Ottawa was chartered in 1929.
While Zonta is active in 63 countries, our clubs are not divided by country. Rather, our members work in geographic regions that transcend national and provincial borders. For example, Zonta Ottawa ON is part of a District that includes clubs in Montreal and many parts of New York State. This global structure enhances the truly international nature and scope of our mission and mandate.
(Note:  There are two Zonta Clubs of Ottawa – ours in Ontario, Canada, and the Zonta Club of Ottawa, Illinois is in the United States)