Great momentum on our 2020 Zonta Christmas Fundraiser — we are in sight of our goal!
Season's Greetings to you all!
It's twelve days before Christmas so time to report on our Twelve Days of Christmas Fundraiser!
As you know, funds raised go to support our scholarship awards and bursaries for 2020-21! Happily, we are more than half way to our goal of raising $2000 from the general membership — and this will be matched by up to $2000 from our four sponsors for a grand total of $4000.
Thanks so much for your support and generosity so far. But we can't let up just yet! Once again here's how it works:
1. Members ask friends and relatives to make Zonta donations for their holiday presents this year. (Well, not ALL your holiday presents but at least one, or several?) And remember making a present to yourself — ahem, a donation — is completely cool!  After all, the best Christmas shopping always starts with buying a present to yourself. This year, with Covid limiting opportunities, a donation could be perfect.
2.Donors generously donate in one of the four ways listed below:
– by mailing a cheque made out to Zonta Club of Ottawa to:
       Zonta Club of Ottawa
       c/o Cindy O'Neil
       618-1071 Ambleside Drive
       OTTAWA, ON, K2B 6V4
3. Zonta Club of Ottawa (ZCO) gratefully receives the money! But it doesn't stop there!  ZCO is a registered charity so donors receive a present of their own — an income tax receipt to use on their 2020 taxes. The giving just keeps on giving! It's a win-win all around!
Whichever way the donations are made, we'll have the receipts out to you as quickly as possible in the New Year for tax purposes.
And finally, stay tuned for another e-mail about our fun online Zonta Christmas social and auction on Dec 23 where proceeds will partially go to also help us meet our goal.
Questions?  Just ask us by return email!
Wishing you all the best for a Happy Holiday Season!
Sylvie Begin
Elspeth Nickle
Susan Smith
Annegret Uhthoff
---
---
Dear Zonta Club of Ottawa, Canada (ZCO CA) Members:
It's that time of year again… but this year will be different… and maybe even better. Our Zonta Club of Ottawa usually has a Holiday Party. Last year we celebrated at Sylvie Begin's lovely condo. In other years, we have had dinner or a house party. Whatever the format, one thing has become a tradition at this time of year – giving donations in support of special projects. So this year, because everything's been tossed on its head, let's agree to do things differently.
Twelve Days of a Zonta Christmas
12 – Agree, that this year we will not be getting together in person – Our main priority this year will be to give out our Bursaries and Scholarships. We couldn't hold our usual Fashion show, or Musical afternoon, or Summer picnic. So that means we as a club must raise the funds.
11 – Agree, that our Youth Bursaries (2@$800) are important as we not only recognize two leaders, but we know that they are not able to enjoy their usual High School experience and jobs are not available. Also, our two Mature University Awards (2@$2,000) are important as these women are sacrificing a great deal to go back to University in these troubling times.
10– Agree, that the Jane M. Klausman Award ($1,000) is vital for a young woman in a university business program and our New Immigrant Award ($1,000) is even more important this year as being a single mother is so very difficult. This funding will go a long way towards their getting a good job here in Canada.
9 – Agree, we can all help… but how?  With a Holiday Matching Program
8 – Agree, already we have raised $2,000 towards our goal to support the 2021 Awards… but there is a catch – The four donors who contributed will give this to Zonta if we can raise an additional $2,000.
7– Agree, we certainly have given a lot this year… but most of us hate selling tickets – We know the club will have other tiny fundraising activities in the year – but nothing big.
6 – Agree, we are not asking for another donation. Nope! We are suggesting something different.
5 – Agree, from now until December 31, we tell our family and friends that "I do not need another scarf, I don't want a bottle of wine and I really cannot afford a single pound on the waist from Chocolate." Instead, ask them to donate to Zonta Club of Ottawa, or give you the money and you can donate it.
4 – Agree, we thought "Wow" when we learned that one couple decided not to get Christmas cards printed ($100) plus Postage ($100) so $200 to the fund means a lot to them.
3 – Agree, if a great aunt gives $10 – $25, our Zonta Fund will match it. So, our Fund will grow by $20 – $50.
2 – Agree, all donors get a tax receipt (over $20 donation)
#a. Pay through CanadaHelps (see 'Donate' on our website https://zontaottawa.ca/) or
1 – Agree, not only will we all have a very Merry Christmas, but our 2021 Zonta Awards Fund will be on its way to a great Awards Zoom Ceremony in May 2021.
Zontians are giving people. Let's encourage those around us to give too. When our friends and family learn that their contributions will go to such important projects, they will no doubt agree that giving is its own gift.
We invite everyone to find creative ways to raise some funds for our Bursary and Scholarship programs.
Best of the season to everyone. Stay well.
Zonta Club of Ottawa, Canada  'Fundraising Committee'
Chairman: Sylvie Begin & Members: Susie Smith, Elspeth Nickle, Annegret Uhthoff
---
---
Virtual Talk on Child Marriage in Canada on Thursday Oct. 22nd, 2020 6:00-7:00PM (30 min talk, 30 min Q&A) with Dr. Alissa Koski  Department of Epidemiology, Biostatistics and Occupational Health  (McGill University)
---
---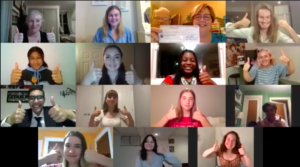 It was a much unexpected but very welcome surprise to receive your letter; please accept our sincere thanks for the very kind donation from the Zonta Club for Odyssey Theatre.
---
---
Interval House emergency shelter receives gift of $3,500 from Zonta Club of Ottawa, Canada to help
respond to increasing needs during the COVID-19 response.
---
---
Zonta Club of Ottawa, Canada  April 22, 2020 AGM
---
---
January 11, 2020 Amelia Earhart Day 'Annual Breakfast'
---
---
November 8, 2019 Zonta International Centennial Anniversary
---
August 18, 2019 Susie & Marceli's Sagastaweka Island Picnic

---
Senator Tony Dean, Cindy O'Neil 'Proclamation' Dr. Marie Boutilier & Senate Usher of the Black Rod
Senators' Statements

 — Zonta International
June 6, 2019   Hon. Tony Dean   

ODF Image Link
---
---
Zonta Club of Ottawa, Canada Celebrates 90th Anniversary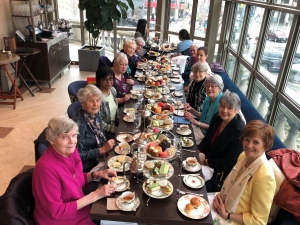 05152019 90th Anniversary at Chateau Laurier
ZC of Ottawa, Ontario Charter Certificate
---
2019 Annual Awards Celebration

---
---
International Women's Day (IWD) March 8, 2019

---
---
Zonta Club of Ottawa Centennial Celebration
'Get Your Glow On'  Nature Nocturne'  Friday, November 30, 2018 
Hand-off Zonta District 2 Centennial 'Torch' to Marjorie Lavin (Zonta Club of Albany, NY)

---
ZC-Ottawa-share-Centennial-Torch-with-ZC-Montreal
November 2018

---
---
Sylvie's Musical Afternoon Fundraiser June 3, 2018

---
---
| | | | | |
| --- | --- | --- | --- | --- |
| 27/Sep/17 | 741 | Cornerstone Housing for Women / Capital Campaign Unit Sponsorship | s | 6,500.00 |
     
Cornerstone Princeton Ribbon Cutting Oct. 2018
Val Hume, Krystal Valencia, Sophia Wright, Cindy O'Neil
     
---
---
2016

---
---
Susie & Marceli's Sagastaweka Island Picnic June 2016
---
---
2015
---
---
June 15, 2014 World Elder Abuse Awareness Day (WEAAD)
---
---
Congratulations to the Zonta Club of Ottawa for 80 years of dedication
Oct. 2009 Zonta District 2 Fall Workshop