Our March 2015 meeting began with Sister Pauline Gagne, SCO, providing a brief history of PACT, the Persons Against Crimes of Trafficking and its current vision and goals. PACT began in 2004 and incorporated in 2007 as a not for profit organization to stop human trafficking. PACT holds meetings once a month at the Bronson Centre consisting of educational events, public awareness and advocacy around the PACT issues.
Sister Pauline reminded us that every December 2, PACT holds an event to raise awareness about human trafficking.  Recently, PACT put out a report entitled Project Impact funded by Status of Women Canada that involves many organizations from the community. If focuses on human trafficking for sexual exploitation. 90% of the persons trafficked were local and most were youth. There were many questions and Sister Pauline encouraged all there to come out to a PACT meeting to learn more.
Susie Smith, Acting Program Chair for March, thanked Sister Pauline for her excellent presentation and for sharing her knowledge with The Zonta Club of Ottawa.
---
---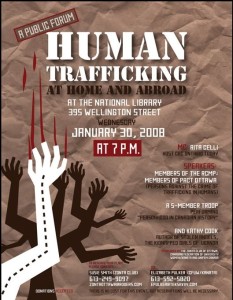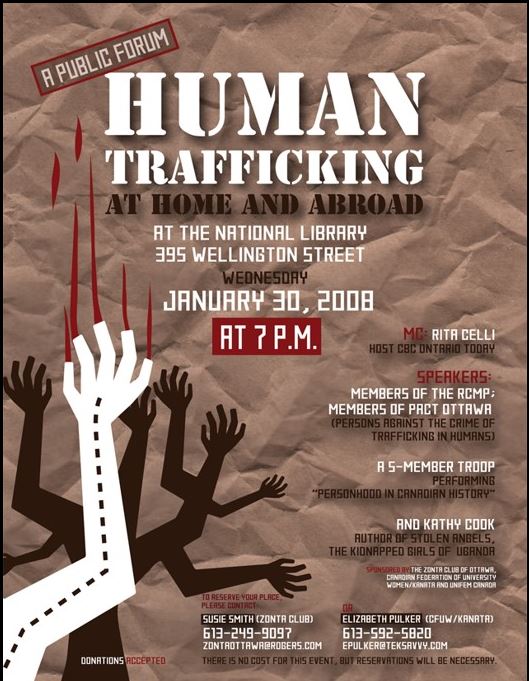 We began studying the issue in 2008 by meeting with the head of the RCMP's human trafficking desk.  Members were given an overview of trafficking in Canada.  After widely publicizing the event, the club joined UNIFEM and Kanata University Women's Club to hold the first information session in human trafficking in the region. Although it was a cold night in January, 190 people attended. Speakers included members of the RCMP, Members of a small volunteer group called PACT-Canada and Kathy Cook, author of Stolen Angels: Kidnapped Girls of Uganda.  Then in March we held another meeting and this time we invited Jamie Heffernan , Coordinator of the Ottawa diversion programs (The John School).  It was at this meeting that we addressed the discussed the motivation for buying sex, and learn the nature and scope and harm of trafficking here in Ottawa.
The next task involved studying  the role that prostitution plays in human trafficking.  The club was asked to organized a round table on Parliament Hill in the fall of 2009. Again, a large number of government representatives attended. Although the club concluded its active involvement, it is now connected with PACT (Persons Against Crimes of Trafficking).  PACT has gone on to make a positive impact on building awareness about human trafficking in Ottawa, and they credit part of their success to the Zonta Club of Ottawa.
Click here for more information on PACT
---
---
Zonta District 2 'Fulcrum' 2008
Zonta Club of Ottawa
The Zonta Club of Ottawa was asked to host a Round Table at a special evening at Parliament Hill, Ottawa on 'Human Trafficking in the European Union' by Canadian Senator, Mobina Jaffer on November 26, 2008. She had arranged a series of meetings for Patsy Sorenson, a member of the European Commission Committee of Experts on Human Trafficking and Current Director of the NGO Payoke and former Member of the European Parliament while touring Canada. Also, joining the group on Parliament Hill was PACT, Persons Against Crimes of Trafficking. There were approximately 75 people in attendance, including members of the Canadian legislature and several directors of Canadian NGOs.
The Zonta membership was led by Tracy Bellefontaine, Cindy O'Neil and Elizabeth Gibbs. Senator Jaffer asked the Zonta Club of Ottawa to plan a major Round Table Day on the Hill to address Human Trafficking in Canada next year.
https://www.zontaottawa.ca/wp-content/uploads/2011/11/ZD2-Issue-21.pdf