Welcoming new Canadians to Ottawa (2009-2012)
Program goal for Zonta Club of Ottawa, 2009-2012:  To understand the diverse cultural and integration challenges of recently immigrated, internationally-educated, professional women in Ottawa so that the Zonta Club of Ottawa can use its newly acquired knowledge to work towards making a focused, manageable, and effective impact on local areas of need.
Guiding Strategy:
The Zonta Club of Ottawa takes a long-term, three-phased, strategic approach to its program activities:  first, inform and empower ourselves through education and research; second, 'broaden the tent' through collaboration, networking, and education of others; and finally, focus on making an achievable and collaborative impact on the issue before us.
In keeping with the above approach, the Club invited over 30 internationally-educated, professional women to tour the Museum of Civilization and the National Gallery, thereby allowing us to welcome these ladies to Ottawa. More events and activities are planned for the future.
Next Steps

We began to learn about the issue for new immigrants being mentored by the YMCA-YWCA, The International Women's Service Organization and the Catholic Immigration Centre.  They provide speakers to educate the club in what were the real problems that well education women immigrants faces (difficulty in having their professional credentials recognized by Canada).
Having reached the point of being more informed, we were quite challenged to come to a decision as to "Where" to give our time, and energies, as a club, in order to make the best impact for women immigrants who are newcomers to Ottawa.
We just did not have the whole picture necessary to make an informed decision about how we can be part of the solution.  If this is a problem for us, we can only assume that it is also an issue for other local service clubs, who if they knew of the needs within our community, might be able to partner with agencies or other organization in order to take a difference for local immigrant women.
Round Table
The September 2010 Round Table was held in a Senate committee room, sponsored by Senator Charlie Watts. The evening spawned new friendships with new immigrants.
Therefore we held a Round Table, a committee room of the Canadian Senate, also hosted by Senator Charlie Watt.  We invited representatives from six immigrant organizations – those who provide service to new immigrants (from job resumes to finding housing and household goods).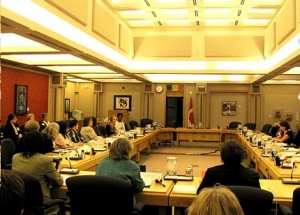 On the other side of the table we invited seven sister organizations – all volunteers who had never worked with immigrants before.  They included the Ottawa Storytellers Association,   the Ottawa's Media Club (editors, writers etc.), the Ottawa Council of Women  even the Ottawa Weavers and Spinners (needlework).    Together we brain-stormed how we could make a difference.
Soon after we had positive feedback.  The Ottawa Storytellers partnered with the Lebanese Family Services and they are working with their clients to help prepare them for interviews – thus "telling their stories".
Member of our Zonta Club of Ottawa met with a dozen highly educated and motivated foreign trained physicians.  We followed that meeting with an evening where we hosted both women physicians and lawyers (all unable to continue their work in Canada) at the Canadian Museum of Civilization.  We paired a Zontian with a new immigrant and together they toured the museum and then had coffee and sweets.  This was meant as a way for the new immigrants to meet a new friend, learn more about their new country and at the same time polish their interviewing skills. We scheduled a second evening at the National Gallery of Canada in September 2011. At that evening we had 20+ ladies join us for the tour.  Both evenings were a success – Zontians made new friends and many remain so.