16 Days of Activism
Against Gender-Based Violence
The 16 Days of Activism Against Gender-Based Violence is a global campaign, spearheaded by Rutgers University and coordinated in Canada by Women in International Security Canada (WIIS-Canada).
The Campaign was launched in 1991 and runs annually from November 25 (International Day for the Elimination of Violence Against Women) until December 10 (International Human Rights Day). Since its inception, it has become the most widely recognized and longest-running campaign for women's rights in the world. Feminists in the 1990s achieved a truly monumental breakthrough when they secured the formal recognition of women's rights as human rights, and of violence against women as a human rights violation. This work continues, in new ways, as gender-based violence continues unabated.
What Can I Do?
Three categories of things you can do to help end gender-based violence are:
Prevention

Promote gender equal norms and violence-free environments in schools
Support programs that help men to change violent behavior
Request "safe cities": design/lighting of public spaces, safe public transportation, etc.

Protection

Request One-Stop Centers with medical/legal/social help for victims
Promote short-term shelters and long-term affordable housing for women and children
Support vocational training for victims to become self-supporting

Prosecution

Request laws that clearly blame perpetrators, not victims
Encourage reporting of violence and give support to victims during legal processes
Promote training of police and legal professionals to understand the issues.
---
What have we done?
Each year, our club supports and participates in initiatives and events around the city. Below is a recounting of our efforts each year:
2018
For the 2018 edition, the Campaign worked under the theme "Ending Gender-Based Violence in the World of Work" with a particular focus on the adoption of legally-binding international standards to eliminate gender-based violence in the workplace.
Gender-based violence is a major obstacle to empowering women and girls, especially in the context of work environments. The Canadian feminist foreign policy can provide a positive impetus to advocate for the elimination of such obstacles and to sustain Canada's efforts both at home and abroad.
The 2018 theme was Orange the World: #HearMeToo.
See the annual summary HERE.
Scope
The 16 Days Canada Campaign has grown significantly since it began in 2014. The 2018 edition featured a record of 58 events and activities on the national calendar, including 15 initiatives with daily frequencies. The launch was marked on Monday November 26 by the illumination of the Heritage Building at Ottawa's City Hall, an activity organized by the Grandmothers' Advocacy Network (GRAN) and WIIS-Canada. A range of unique activities took place during the campaign, including a youth circle, a women safety workshop, a kickboxing class, art installations, a signature campaign and book clubs. Expert panels, moderated discussions, donation booths, whiteboard campaigns, roundtables, healthy love talks and lectures, vigils and candle light marches were also held in the program. Our partners reported more than 1,250 people attending activities in the provinces and territories of Alberta, British Columbia, Manitoba, New Brunswick, Ontario, Quebec and Yukon Territory.
Some of the activities also promoted the UNiTE (orange) Campaign led by the United Nations Entity for Gender Equality and the Empowerment of Women (UN Women), such as the events featuring Ms. Phumzile Mlambo-Ngcuka, Executive Director of UN Women and Under-Secretary-General of the United Nations, held at the University of Ottawa and in Parliament Hill, as well as an event at Ottawa's City Hall that culminated with a municipal proclamation. Online activities like blog posts, online artworks, social media takeovers, stats and tips, awareness campaigns, a resource 'zine, Facebook live events, webinars and website launches such as Sheltersafe.ca were also part of the Campaign. WIIS-Canada's social media portals reached a total of 12,291 people on Facebook (number of people who saw contents by the page or about the page) and almost 89,200 impressions were measured on twitter (5,575 impressions per day). Partners reported significant engagements on their social media platforms, extending the impact of 16 days Canada even further.
Launch of the 16 Days Canada Campaign and UNiTED Campaign
Illumination of the Heritage Building at Ottawa's City Hall
Organizers: Grandmothers Advocacy Network and WIIS-Canada
On Monday, November 26, members of the organizing committee for Ottawa's  16 Days of Activism met at City Hall where the Old Historic Building on Elgin Street turned Orange and Purple… The lighting of the building was organized by the Grandmothers Advocacy Network (GRAN) and the Women in International Security Canada (WIIS-CANADA).
Guest speaker was Diane Deans, an inspiring example of women making a difference in City Politics. Ms Deans is a member of Ottawa City Council, representing Gloucester-Southgate Ward in the city's southeast, home to more than 49,500 residents.
The theme for Ottawa days will include Activism Against Gender Based Violence in the Workplace.  Be sure to join the many activities planned and most of all check in to social media. Building awareness is one of the main thrusts this year with messages appearing daily on Twitter, Facebook and Instagram.

---
2017
What a group of days the Zonta Club of Ottawa experienced! Planning began months before. President Cindy O'Neil compiled over two dozen events being held in Ottawa for Zontians to attend.
Orange Scarves: Our November meeting, held on the 23rd November saw a beehive of activity.  Cindy O'Neil purchased a bolt of orange fleece and Lynda Pearson and Shirley Mack brought their cutting equipment.  At the end of the evening, we had a dozen orange scarves ready for distribution!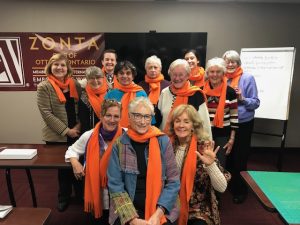 Leslie Lawson had purchased a dozen orange taper candles to be used at the opening ceremonies.  Leslie also presented a large 4'X6' Zonta Club of Ottawa, Ontario, banner for us to use.  We also reviewed a calendar of Ottawa events from which members could choose those events that mean the most to them.
November 25-December 10: Prem Grainger posted a pertinent message each day on our Facebook page for individuals within and outside the club to share and spread the message.
---
Conclusion: the Zonta Club of Ottawa, Ontario is proud to have taken action during the 16 Days of Activism following the directive of Zonta International, "During the 16 Days of Activism, 25 November-10 December, all Zonta clubs and districts are encouraged to take part in the Zonta Says NO to Violence Against Women campaign and to take local, national and international actions to influence the making and implementation of laws, as well as changing gender-based attitudes and behaviors to end violence against women."