Thank you, thank you, thank you!
@zontaclubofottawa will be receiving our donation! We appreciate every one of you who came out on Monday to help contribute!
---
---
Zonta International releases new statement on climate change
Saturday, 5 June, is World Environment Day, and we are pleased to share with you our new statement on climate change, a major global crisis that has a negative impact on people and the environment around the world.
Though we are not an environmental or disaster response organization, we recognize that climate change disproportionately affects women and girls, and action is needed from a gender equality perspective.
As an organization committed to empowering women and girls globally and locally and promoting justice and universal respect for human rights and fundamental freedoms, Zonta International is calling for action in favor of a fair and human rights-based approach to solve the crisis of climate change in the post-pandemic world and achieve greener, cleaner and equal societies.
Read the statement by clicking the button below.
ZontaInternationalStatementonClimateChange_ClimateChangeAGenderEqualityIssue
---
---
News Release
Release date: February 9, 2021
COVID-19 and Violence against Women – The Double Pandemic
Imagine what it must be like – isolated at home with a violent partner and nowhere to go. Sadly, too many women know what that feels like.
Zonta Club of Ottawa, Canada (ZCO) is hosting a virtual talk entitled "COVID-19 and Violence against Women: The Double Pandemic" on International Women's Day, March 8, from 6:30 – 7:30 EST pm via Zoom.
The pandemic has affected us all in so many ways. Women and children fleeing violence have been especially impacted by lockdowns and isolation in their homes. Shelters have been coping with high levels of demand and the urgency to expand these resources is critical.

Kaitlin Geiger-Bardswich is the Communications & Development Manager of Women's Shelters Canada, a national organization supporting the 550+ shelters and transition houses serving women and children affected by violence against women and intimate partner violence. She holds a BA (Honours) in international relations from the University of Toronto and an MSc Human Rights from the London School of Economics. Women's Shelters Canada has studied the impacts of the COVID-19 pandemic on women. Her talk will break down the challenges COVID-19 has presented and amplified regarding violence against women and provide insights into how individuals and groups can help.
The public is invited to join this half-hour Zoom talk followed by a 20-minute Question and Answer session. Register to attend this free event, or to receive a recording of the event, at bit.ly/ZCO-IWD2.
Ms. Geiger-Bardswich would be available for a radio/press interviews. She can be contacted directly at kbardswich@endvaw.ca.
ZCO is a chapter of Zonta International, a global organization with a mandate to empower women and press for women's human rights through service and advocacy. ZCO is involved in local initiatives to support shelters and transition houses through fundraising and speaker events such as this one, to help support and empower women and girls.
For more information about the Zonta Club of Ottawa, Canada, please contact CJ Blake at president@zontaottawa.ca or visit the website at www.zontaottawa.ca.
End
---
---
---
…Given Zonta's wonderful support for young artists, we want to apply your donation to our month-long Youth Theatre Apprenticeship program which is taking place online this year. Twelve high school students from across the region, participated in 10 free workshops with professional theatre artists, learning about acting, creation, design and directing. They also had a session with 10 professional actors demonstrating performance, concluding with a special Q&A discussion.
The program just concluded last night with a special performance by our talented apprentices in front of an invited audience and our actors, where we announced Zonta's donation. I have attached a photo showing our wonderful young artists and Laurie Steven displaying Zonta's cheque. (If you need a close-up of her with the cheque please let me know). We are also pleased to recognize Zonta's support on our web site, newsletter and other promotional materials. I hope you concur with this direction of your funds.
Please pass on our very sincere thanks and appreciation to all the members of the Zonta Club for your support.
Wishing you a very safe and healthy rest of your summer and fall.
Warmest regards,
John Forster
Chair
Odyssey Theatre
---
---
Since the pandemic, domestic violence has intensified.  Did you know it costs $3,500 to provide a woman with emergency shelter and services in Ottawa for one month? Our club has made a donation for this amount to Interval House of Ottawa to help meet the unique challenges COVID-19 presents to women.
To read the below press release as a PDF, click here (a new window will open)
FOR IMMEDIATE RELEASE
July 20 , 2020
ZONTA CLUB OF OTTAWA, CANADA SUPPORTS
EMERGENCY SHELTER IN COVID 19 RESPONSE
Interval House emergency shelter receives gift of $3,500 from Zonta Club of Ottawa Canada to help respond to increasing needs during the COVID 19 response.
OTTAWA, ON, July 20, 2020 – The Zonta Club of Ottawa Canada (ZCO) is pleased to announce a gift of $3,500 to Interval House of Ottawa, an emergency shelter that provides housing for women and children as survivors of domestic violence. Club members readily responded to the call to action to help the shelter provide vital services during this difficult time.
"The club is thrilled that we were able to reach a total of $ 3,500 ," says CJ Blake, President of ZCO.  "This donation reflects just how strongly our membership believes in empowering and supporting women and girls, and, at the same time, recognizes the unique challenges that COVID 19 has presented to women . We are pleased to contribute to Interval House, which supports some of the most vulnerable in our communities. In this difficult time, we hope our donation inspires others to respond in the ways they are able".
This gift aligns with one of Zonta's core goals of ending gender based violence. At this time of lockdown and isolation, increasing numbers of women and children are accessing emergency shelter services in Ottawa, and the shelters are struggling to stretch their resources to serve their clients. Supporting individuals in crisis is even more important, and made more challenging by the widespread financial impact of the pandemic, sometimes resulting in unemployment among those who may regularly contribute to charities and non profit
organizations.
"$3,500 would provide a woman with a month (31 days) of safe shelter, counselling, meals, and crisis support" shared Sammy Cisek, Community Engagement Worker at Interval House of Ottawa.
More needs to be done to support emergency shelters, especially in these challenging times. Zonta Club of Ottawa Canada challenges other service organizations to make similar contributions to the shelter of their choice.
"This is the time to support our sisters. With concentrated effort across our communities, women in need will continue to be supported for a long time ," adds Blake.
ZCO is a member of Zonta International, a global organization of professionals with a mandate to empower women through service and advocacy. Their annual program includes offering educational scholarships and bursaries.
For more information, please contact CJ Blake at president@zontaottawa.ca or visit the website of the Zonta Club of Ottawa, Canada at www.zontaottawa.ca
For more information about Interval House of Ottawa, please visit
www.intervalhouseottawa.org
---
---
Through the Chateau Door: A History of the Zonta Club of Ottawa
Written by long-standing Zontian, Valerie Knowles.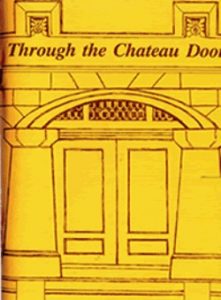 Commissioned by the Zonta Club of Ottawa, this history describes the circumstances surrounding the Ottawa club's founding and chronicles its development from 1919 to 1989, when it marked its sixtieth anniversary.
For more information and an excerpt, please visit the website of the author here.
(ISBN 0-9698795-0-4)
---
---
The Zontacler
Our monthly newsletter is compiled and edited by Valerie Hume.
All contributions are welcome and are required no later than the 10th day of the month.
---
---
The Zontian Magazine
Members of Zonta International receive the Zontian.
https://www.zonta.org/images/docs/NewsEvents/ZontianMag/Zontian_July2020.pdf
---
---