Through the Chateau Door: A History of the Zonta Club of Ottawa
Written by long-standing Zontian, Valerie Knowles.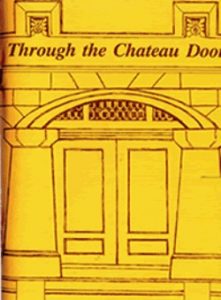 Commissioned by the Zonta Club of Ottawa, this history describes the circumstances surrounding the Ottawa club's founding and chronicles its development from 1919 to 1989, when it marked its sixtieth anniversary.
For more information and an excerpt, please visit the website of the author here.
(ISBN 0-9698795-0-4)
---
The Zontacler
Our monthly newsletter is compiled and edited by Valerie Hume.
All contributions are welcome and are required no later than the 7th day of the month.
---
Zontian Magazine
Members of Zonta International receive the Zontian.
https://www.zonta.org/Media-News/Zontian-Magazine