Zonta Club of Ottawa, Canada Members
are extremely proud of our history
(past, present and future),
especially ZCO CA Member & Award Winning Author,
Valerie J. Knowles,
    cover design by ZCO CA Member & Ottawa Artist
Paula Mitas Zoubek

---
---
Congratulations!
Wednesday May 15 marks our 90th anniversary (1929 – 2019).
On this date 90 years ago, twelve Zontians had their first luncheon meeting at the Chateau Laurier. To celebrate, twelve amazing club members returned to the same location for afternoon tea. They enjoyed gathering with tea, beautiful three tiers of elegant finger food and desserts, delicious scones, and the separate bowls with clotted cream and jam! Valerie Knowles (author of the written account of the club's history, 'Through the Chateau Door') read about the beginnings of the club and the twelve women that met for the first time on May 15, 1929. Cindy found a beautiful poem by Teresa D. Huggins called 'Awaken the Zonta Power', which was read by Susie Smith.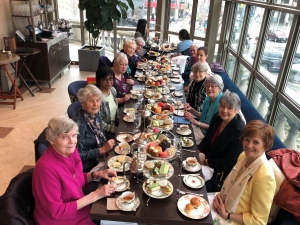 Thank you to the twelve members in attendance: (clockwise from bottom-left): Valerie Knowles, Annegret Uhthoff, Prem Grainger, Cindy O'Neil,  Shirley Mack, Kathy Bose, Valerie Hume, Kirsten North, Susie Smith, Lynda Pearson, Paula Zoubek, Judith Ainsworth.
---
---
Zonta International                                                                    February 2020
Dear President of the Zonta Club of Ottawa, Canada with a copy to Governor of District 2,
I would like to congratulate you and the members of the Zonta Club of Ottawa, Canada on your 90th anniversary. Through all the years since your charter ceremony, you have made a difference for many women and girls and you can be proud of this.
An anniversary is a wonderful opportunity to take a moment and reflect on what made your club successful and on why you all are members of our great organization. Zonta was innovative 100 years ago. Today, its core idea is as relevant and timely as before. As Zontians, we share the belief in making the world a better place by empowering women. And we find joy in working together toward gender equality in a supportive community of professionals that extends to other countries and cultures.
For each one of your members, your club has been at the center of their respective Zonta journey. The more you feel supported and empowered by your club life, the better you are positioned to empower other women.
During our Centennial Anniversary Biennium, we will build on our core idea and increase our impact to improve women's lives all over the world and to make women's rights human rights. The time is now, and we can be confident that we will make good progress through local and international service projects, advocacy initiatives and fundraising efforts. Clubs worldwide have the opportunity to work together to end child marriage, and so does your club. Let us develop this important program into a signature project for Zonta.
Once again, congratulations on this milestone anniversary. I wish you continued success and look forward to seeing all that we accomplish together.
Kind regards,
Susanne von Bassewitz
International President 2018-2020

90th anniv Zonta Club of Ottawa_Canada Charter 02012020 from ZI
---
---
Our 88th Year of serving the Ottawa Community & Zonta International!
On Wednesday, May 28, 2014, the Zonta Club of Ottawa began celebrating our eighty-fifth anniversary.  Imagine, for eighty-five years a group of like-minded women, all decision makers in their respective careers, have been working to improve the status of women, in step with Zonta members in sixty-three other countries.  Today, 2016 – we are in our 88th year!
The first seventy years of our history were captured in a 70-page published book. Through the Chateau Door, a History of the Zonta Club of Ottawa, 1929-1989, written by Valerie Knowles, a Canadian writer.  The history as well as club records reveal a busy and productive women's service club.
Today, we look back with pride on the remarkable contributions the club has made to the Ottawa community as well as to Zonta International over its eight-five years.
---
---
Past Programs:
All of Zonta International's thirty-three thousand members are asked to fight violence against women.  The Ottawa club chose the hidden crime of Elder Abuse.
In an effort to understand the scope of the problem and to build awareness, we invited speakers to address such question as: What is elder abuse? Who are the victims? Where can older people get help? And what can Zonta do?  The result:  On June 15, 2014, on World Elder Abuse Awareness Day, the club hosted a vigil at Ottawa's City Hall.
The club continues to foster education by awarding bursaries.  Since 1986, the club has presented a number of bursaries to deserving women in May of each year.  Each May the club distributes $8,000 -$11,000 at a ceremony and reception held at City Hall (see Awards).
For several years the club enthusiastically held a Holiday Silent Auction and Dinner and assigned the proceeds to Zonta International Foundation to support international projects. The 2013 event was a great success; raising over $2,000.  In addition, Zonta supports Ottawa's Odyssey Theatre by holding a popular theatre evening in Strathcona Park in July.  The proceeds help to finance the club's award program.
---
---
Important subjects covered over the past decade:
Awareness – Afghan Women 2010:  Zonta Club of Ottawa and the Pauline Jewett Institute for Women's Studies at Carleton University, held an information evening at Carleton University.  Guest speakers included Khorshied Samad, wife of the Ambassador from Afghanistan, His Excellency Omar Samad.
Ms. Samad, the former Kabul bureau chief for Fox News, gave a talk titled:  "Progress and Challenges That Still Remain for Afghan Women." Nipa Banerjee, Manager, Strategic Solution, at CIDA, spoke on "Canadian Aid  to Afghanistan and the Development Needs of a Fragile State.
——————————–
In addition, the club collaborated with the Ottawa Hospital Foundation in staging an information session on stem cell research.  This provided an opportunity to learn about advances in this field from a qualified panel.
——————————–
We began studying the issue in 2008 by meeting with the head of the RCMP's human trafficking desk.  Member were given an overview of trafficking in Canada.  After widely publicizing the event, the club joined UNIFEM and Kanata University Women's Club to hold the first information session in human trafficking in the region.  Although it was held on a cold January evening, it attracted over 190 guests, many from government agencies.
The next task involved studying the the role that prostitution plays in human trafficking.  The club was asked to organized a round table on Parliament Hill in the fall of 2009. Again, a large number of government representatives attended. Although the club concluded its active involvement, it is now connected with PACT (Persons Against Crimes of Trafficking).  PACT has gone on to make a positive impact on building awareness about human trafficking in Ottawa, and they credit part of their success to the Zonta Club of Ottawa.
——————————–
The club held an open forum whose speakers included Alia Hogben, Executive Director of the Canadian Council of Muslim Women.  In her impressive talk, delivered to a large audience, she explained why Muslim Sharia tribunals and other religious tribunals should not be allowed to deal with family law matters under the Ontario Arbitration Act.  In early 2005, the Ontario government rejected the use of Sharia Law and moved to prohibit all religious based tribunals from setting family disputes involving such issues as divorce.
——————————–
Individual members, including Lynda Pearson and Annegret Uhthoff, have volunteered  for several years as tutors with People, Words & Change.  This organization provides free one-on-one tutoring to adults in the Ottawa region who want to improve essential skills in English reading and writing, everyday math and basic computer skills.
---
---
Past Service Projects:
Service projects have changed over the years to meet the changing needs of the community.  For example, in the 1960s, the club operated a retirement home for "genteel and improvised spinsters" (nurses, teachers, librarians, and public servants who had neither pensions nor families for support).  15 Delaware Avenue, a brick house with eight bedrooms and "spacious living areas", was purchased for $26,000 and officially opened in 1962 by Olive Diefenbaker, wife of Canada's thirteenth prime minister.
The residence closed in 1974 after housing for retired people became more accessible as a result of the provincial governments attention to the issue. Zonta House was placed on the open market and sold for $95,000, a tidy profit! Net proceeds from the sale of the residence and its contents were placed in a separate trust account for a future project to be determined by the club's membership.
Olive Diefenbaker opens 'Zonta House'
Picture of 'original brass house sign'
---
Other service projects included funding an after-school centre, which was located in Dominion Chalmers Church and provided care for children in grades one to eight.  Eventually the City of Ottawa took over this initiative, but not before Zonta International recognized the club with the international District Award for furnishing over 700 hours of volunteer work in connection with Zonta House.
---
Another important service project involved financial support for Zonta Centre, 346 Murray Street, near the University of Ottawa.  It was designed to help single parents, most of whom were females.  The centre opened in 1986, targeting single mothers (aged 13-21) who received social assistance from the Regional Municipality of Ottawa-Carleton. After the provincial Conservative government took office in 1995, it cut funding for many social service agencies, including Zonta Centre, and it was with a heavy heart that the club agreed to close the Centre in the late 1990s.
1994-1995
Bethany Hope Centre's History of Service
Bethany Home faced a financial crisis which resulted in the closure of its residential beds. Bethany joined in partnership with other agencies, including St. Mary's Home, Youville Centre, Zonta Centre for Young/Single Parents and Emily Murphy Non-Profit Housing to form the Young/Single Parents Support Network* in 1995.  The Bethany Hope Centre began services to young parent families.
---
Fundraising was an ongoing challenge and involved not only a professional Christmas cake baking operation but also dozens of popular events.  One of the most interesting was an evening with actor Sir Peter Ustinov, who donated his services. This event proved to be the most successful money-raising function in the club's history.
Sir Peter Ustinov & Roberta Pollock
---
---
The list of organizations that benefited from Zonta's generosity is a long one.  Eventually, in 1983, a bursary program, using start-up capital from the house's sale, was established to help Ottawa area women intending to pursue a professional career in dance, drama, music, writing or the visual arts.
This proved to be a significant decision because one of the early award winners was actress Sandra Oh.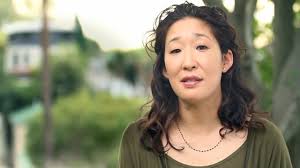 ---
---
Written by Valerie Knowles, "Through the Chateau Door" tells the history of Zonta Club of Ottawa. Club meetings were held at the Chateau Laurier for more than 70 years.
Read more here.
---
---
Members of Prominence:
The Zonta Club of Ottawa has boasted several prominent Canadians within our membership:
---
Agnes Macphail, an outstanding populist speaker, became the first women member of Canada's Parliament (1921) and the first female member of Ontario's legislature (1943).
Agnes Macphail (1890-1954)
Agnes Campbell Macphail (March 24, 1890 – February 13, 1954) was the first woman to be elected to the Canadian House of Commons, and the first woman elected to the Legislative Assembly of Ontario.
After graduating from teacher's college in Stratford, Ontario, Agnes Campbell Macphail accepted several rural teaching positions in southwestern Ontario. She became involved in politics while she was working in Sharon, Ontario, where she joined the United Farm Women of Ontario and attended meetings of the United Farmers of Ontario (U.F.O.). She wrote a column for the Farmers' Sun and frequently spoke on behalf of U.F.O. political candidates.
https://www.bac-lac.gc.ca/eng/discover/biography-people/macphail/Pages/agnes-macphail.aspx
---
Cairine Wilson (1885-1962)
Cairine Wilson, Canada's first woman senator, was raised in one of Montreal's most affluent and influential families in an atmosphere of strict Presbyterianism, tempered by rugged Scots liberalism. She early displayed an interest in politics and, as a daughter of a Liberal senator, was befriended by many notable politicians, including Wilfrid Laurier.
Wilson's appointment to the Senate in 1930 was an historic event that followed four months after the winning of the Persons case by five Alberta feminists led by Judge Emily Murphy. Although the appointment raised controversy at the time, it launched a political career characterized by passion, commitment and reform. Cairine Wilson, whose work on behalf of refugees and the world's needy was legendary, served in the Senate for over 30 years. She also found time to raise a large family of eight children.
First Person: A Biography of Cairine Wilson, Canada's First Woman Senator
---
Sheila Finestone a dedicated human rights activist, was elected to the House of Commons in 1984 and was appointed Secretary of State for Multiculturalism and the Status of Women in November 1993.  She was elevated to the Senate in August 1999.
THE HONOURABLE SHEILA FINESTONE
---
---
Friendships:
Zonta friendships last a lifetime, as fellowship and service are the lifeline of any organizations.  Today there is an active membership of twenty-five members.
Zonta International has given special recognition to those current members who have been members for more than 30 years.  They include:  Lynda Pearson (since 1966), Roberta Pollock (since 1972), Valerie Hume (since 1977), Valerie Knowles (since 1980), Claudette Lévesque (since 1983),  and Mona Tobgi (since 1984).
---
---
This article in today's (12/21/2020) Ottawa Citizen gives an interesting perspective of the restoration work of the Parliament buildings.  In doing so it highlights the ornate sculptures.  Many of these were the work of former Zontian, Eleanor Milne, who was the third dominion sculptor and held the title from 1962 to 1993.  Since all her work was done at night, it was not surprising that we did not see her at all our meetings.
Lynda Pearson
'An elaborate sequence of projects' in restoration of Parliament Hill's historic Centre Block
https://ottawacitizen.com/news/an-elaborate-sequence-of-projects-in-restoration-of-parliament-hills-historic-centre-block
---
The creative life of Eleanor Milne was carved in stone
https://www.theglobeandmail.com/arts/the-creative-life-of-eleanor-milne-was-carved-in-stone/article19383012/
---
Zonta Club of Ottawa, Canada 'Past Presidents'
Past Presidents 
Past Presidents
Thelma Williams                 
1929-30                              
Rebecca McDermot
1973-75
Mina Cairns
1930-32              
Lynda Pearson
1975-77
Jean Robson
1932-34
Eileen Mitchell Thomas
1977-79
Bertha Cowan                  
1934-36
Roberta Pollock
1979-81
Isabel Jeffrey
1936-37
Margaret Pope
1981-83
Isabel Percival
1937-39
Jean Steckle
1983-84
Ida Cumming
1929-40
Roberta Pollock
1984-85
Bess Baron
1940-41
Vera Lee Watson
1986-88
Miriam Burland
1941-42
Rebecca McDermot
1987-88
Marion Foran
1942-43
Elizabeth Gibbs
1988-90
Jean Foster
1943-44
Wilda Phillips
1990-92
Joy Maines
1944-45
Valerie Hume
1992-94
Laura Pepper
1945-47
Killi Kauppinen
1994-96
Mora Guthrie
1947-48
Lise Lavoie
1996-98
Bliss Pugsley
1948-49
Georgette Houle
1998-2000
Mary Harrison        
1949-51             
Annegret Uhthoff
2000-2002
Marjorie Robertson
1951-52
Jane Buchan
2002-2004
Rhoda Wallace
1952-54
Elizabeth Gibbs
2004-2006
Evelyn Mackintosh         
1954-55
Co-Presidents    E.Gibbs & S. Smith
2006-2009       
Honor Coldrey
1955-57
Susan Smith
2009-2012
Isabel Winkler
1957-59
Prem Grainger
2012-2016
Gladys Godfrey
1959-61
Helen Ofuso
Jun-Aug       2016
Penny Silver
1961-63
Valerie Hume
Sep/16-Feb/17
Phyllis Trotter
1963-65
Susan Smith
Mar–Jun 2017
Dorothy Cadwell
1965-67
Valerie Hume
2017-2018
Jean Craig
1967-69
Cynthia O'Neil
2018-2020
Ruth Cairns
1969-71
CJ Blake
2020-2022
Maureen Roberts
1971-73
Kirsten North
2022-2024